November 20, 2015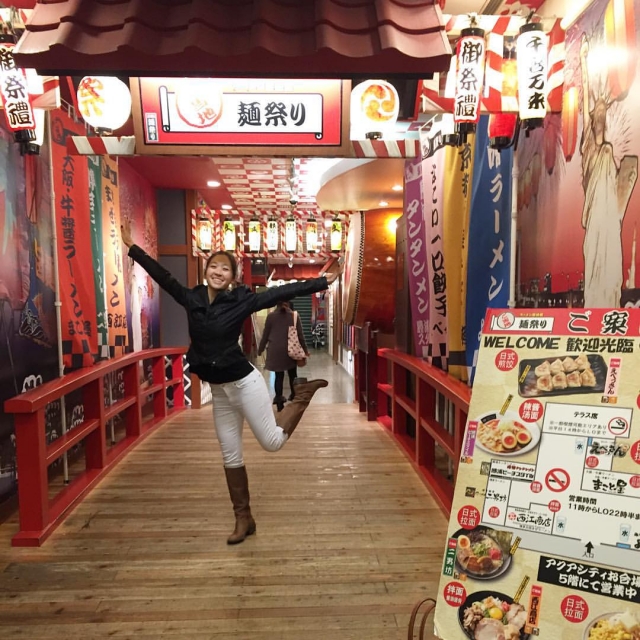 For the few of you who have been asking me why I haven't been posting lately, and everyone else who's a reader of this blog, it's simple – I'M IN JAPAN! Needless to say, I'm not cooking any of my own food, as the sole purpose of travelling across the world and landing on foreign land, is to have someone else cook food that comes much more naturally to them. Japanese food is actually one I haven't dabbled with much… at all. I'm not there yet, spending a day or two just to make the broth of my ramen, and I haven't mastered the art of perfect sushi rice. So here I am, with 6 of my friends, taking a bit of a hiatus. So instead of recipes this week, I rather share with you the food I experienced, what it was, where I got it, and of course, nom worthy photos to help you imagine it as if you were right here with me – sharing a hot bowl of ramen.
So sit back, relax, and welcome to Japan!
Day 1
First things first, breakfast. Leave your cereal and bagels behind because when someone tells you you're going to eat a bowl of rice with beef and cheese on top, you don't question it and just throw up a big thumbs up. Okay, you can questions the cheese a little bit if you're not used to it, but just know it's delicious and you must remember to thank your friend later.
Sukiya was our first morning stop, and our first experience engaging with Japanese staff. There was a lot of pointing, nodding, and arigatou gozaimasu! What did I just order? Doesn't matter, it'll be delicious, just trust me.
And it was!
If you're still thinking this doesn't look up your alley, don't knock it til you try it. Just image the cheese melts almost instantly when mixed into the steaming hot rice and becomes this cheesy rice goodness. NOM!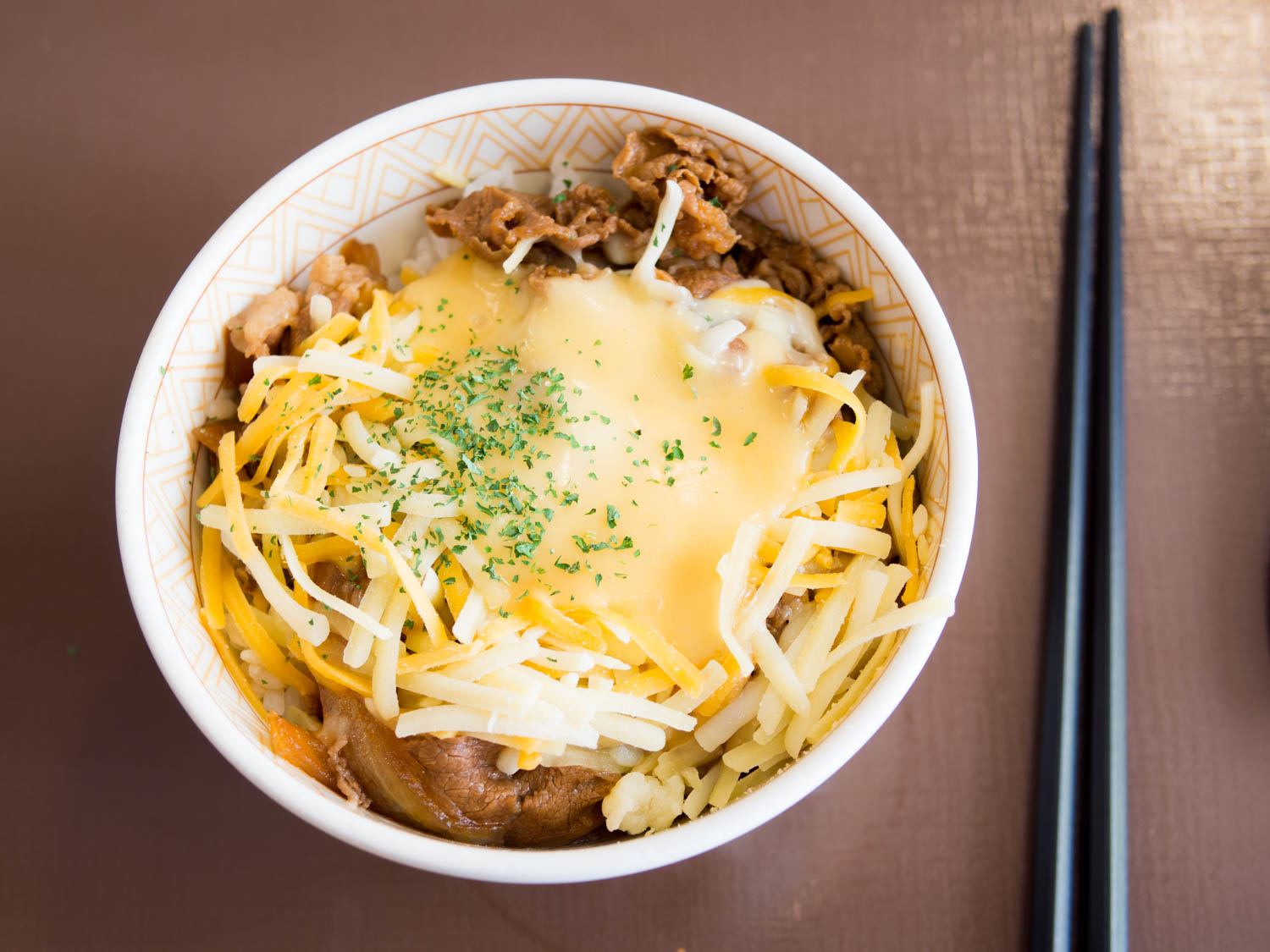 Sukiya
3 Chome-13-3 Kamiikedai, Ota, Tokyo (It's a chain so you can find them all over Tokyo)
Website: www.sukiya.jp
Price: ~400-800円
Rating: 2.5 Noms! The price is great and the food is just as good, + for being so conveniently found.
And because a day traveling somewhere new wouldn't be complete without a cup of their local joe, we ended up at On The Corner, a coffee shop literally on a corner in Shibuya (right by Meiji Jingu if you happen to be checking out the shrine.) So the confusion here lies in the fact that it's not just a coffee shop but attached is a small diner, filled with Tokyo's young minded chain smoking type. If you're just here to try some Bear Pond Espresso, stick to the front and enjoy at their bar height table or to-go. The staff was super accommodating to our group of only English speakers (and the fact that we initially went to the back and sat at a table before realizing that was only meant for diners) and while we weren't allowed to take any photos inside of the shop, the latte was exactly what I wanted – a little nutty and perfectly creamy.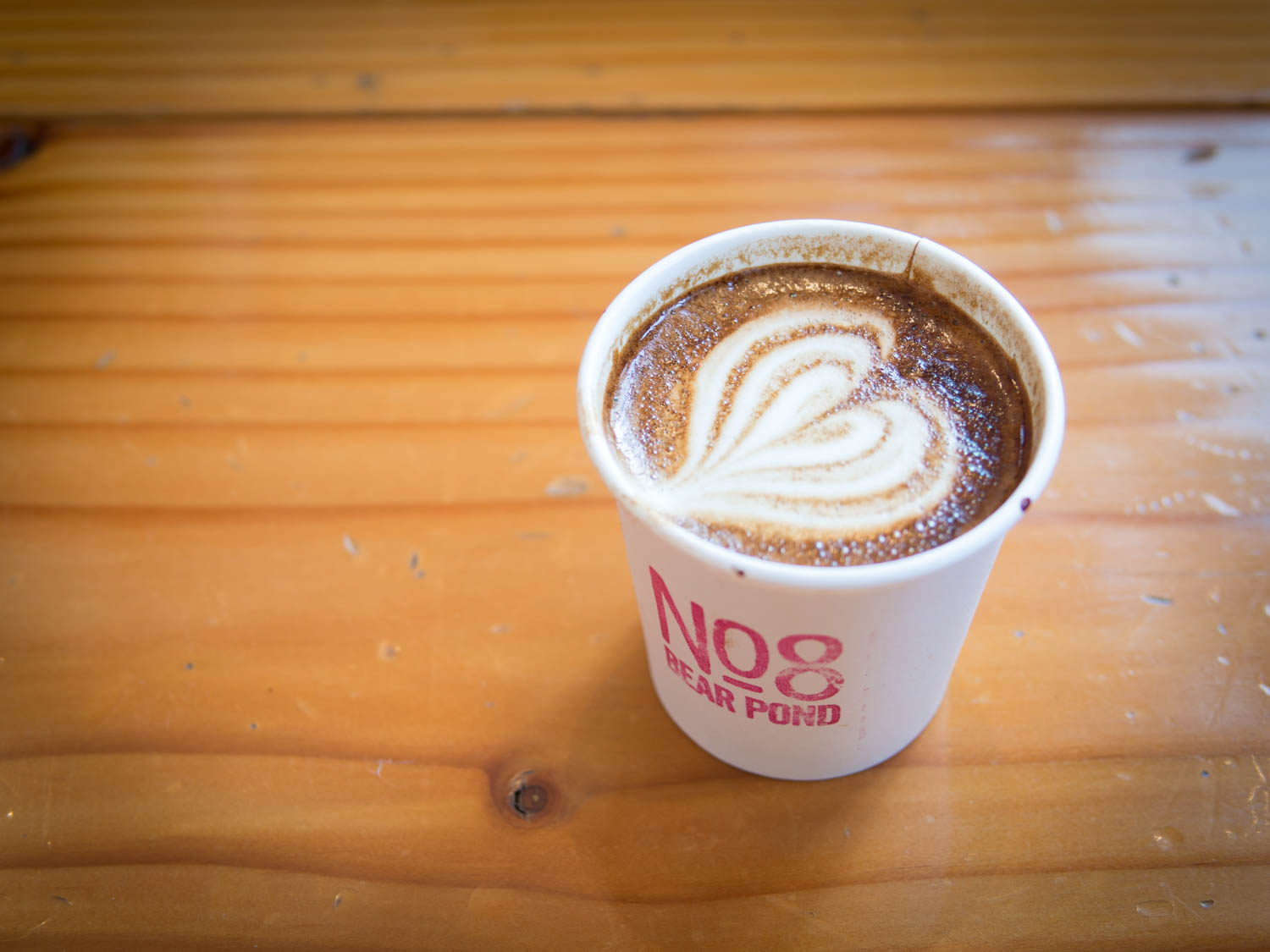 On The Corner
〒150-0002 Tokyo, Shibuya, 1−17−1, 美竹野村ビル1F
Price: ~400-700円
Rating: 2.5 Noms! Price can be a little high, one of my friends got a ~$7 coffee, but the taste is great and the service was nice.
Finally after a day of shines, eating, shopping, exploring and something like 13 miles of walking we had met up with 2 other friends, only making our group a whopping 10 people. While in America this would already be somewhat daunting to find a spot on a Friday night, in Japan, it's next to impossible. In Tokyo, where many small restaurants might only seat 7-15 people total, we found ourselves on the streets of Harajuku looking up locations on our phones that might be able to accommodate us – eventually just deciding to head over to Shibuya where we'd just roam around until we found something. Little did we know, something would find us instead. We ended up being flagged down by what looked to be a promoter for an izakaya, who was trying to sell us on 20% off our bill or an all you can drink special if we followed him. Normally I wouldn't be one to visit a place that needed a promoter to have people know it existed, but it could seat 10 now and that's all that was important. If only I could tell you the name of this place or where it was, but I can't. All I have are photos of what turned into being a very tasty meal below.
Rating: 2 Noms. Food was good, atmosphere was fun, but the price ended up being way too high for a bunch of snacking dishes.
And after this, there are no more photos because I slipped straight into a food coma. And that concludes Day 1 of nomming in Tokyo. If every day is like this, I think we're going to be a-okay.
April 4, 2015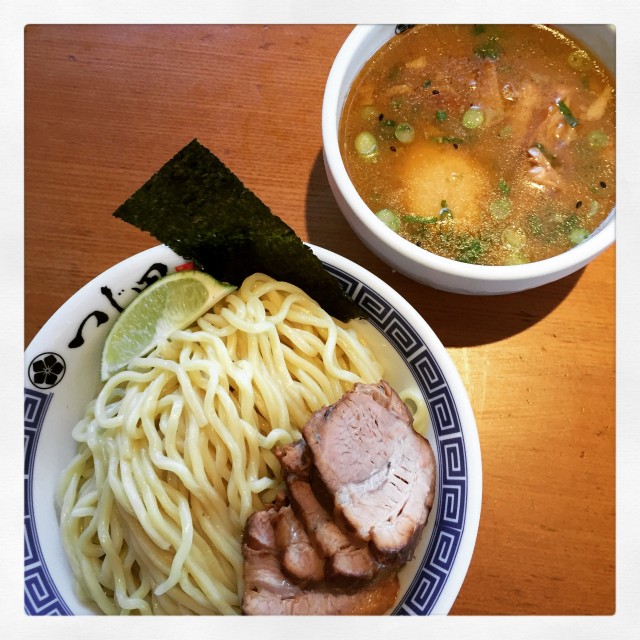 Because we can't spend every day cooking, many posts here will focus on the places we believe are doing great things with food.
Recently we took a trip up to Los Angeles, a city I have a love-hate relationship with; an epicenter for delicious food and traffic. But it was a friend's birthday so packed the car and drive up from San Diego. For lunch we ended up at Tsujita LA, a small and intimate ramen shop that specializes in their Tsukemen and the fact that they slow cook their pork belly for 60 hours. Yes, 60 hours.
Tsukemen (つけ麺) is a Japanese noodle dish consisting of ramen which is eaten after dipping in a separate bowl of soup.
I have a strong opinion on standing in line for free ice cream on Free Ice Cream Day, or being one of the first 100 people in line to get a t-shirt, because really I'd rather spend the $4 than waste 1.5 hours of my life. But when it comes to good food, I'll wait. So we waited. And it was definitely worth it. I appreciate an award winning restaurant that can gain tons of recognition within Los Angeles and not let it get to their heads.
The menu was simple. Now I'm a ramen girl and have never felt the urge to get a dipping noodle over a good fatty broth, but when a steakhouse is known for their dry aged steaks you don't order the salad. It even has step by step instructions on the back to show you how to dip your noodles in case you've never done it before.
Ever find yourself with leftover broth when eating ramen?  Take it home and make rice with the broth instead of water. It's like an Asian take on risotto. Try it now, thank me later.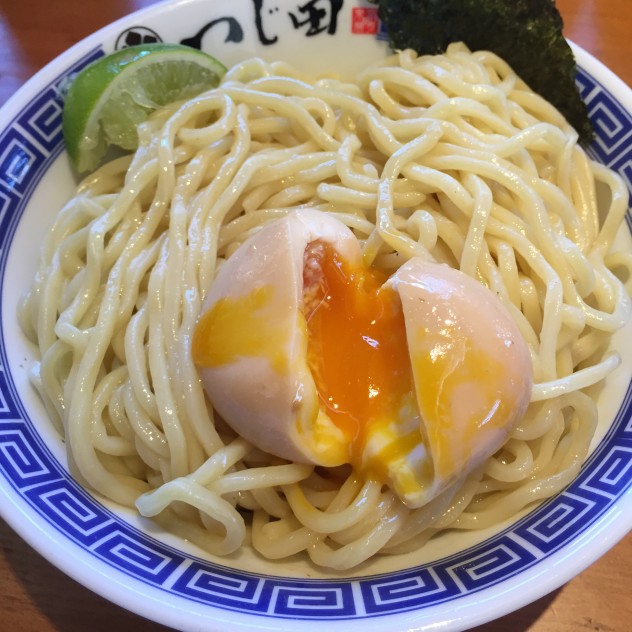 The staff was really nice, super informative on the process and filled up our dipping sauce with broth so we could continue to eat it like a ramen when we wanted to stop dipping. And to complete the meal, the egg was perfect.
Rating: 3 NOMS! Food, nom. Service, nom. Price, nom. Will definitely return again.