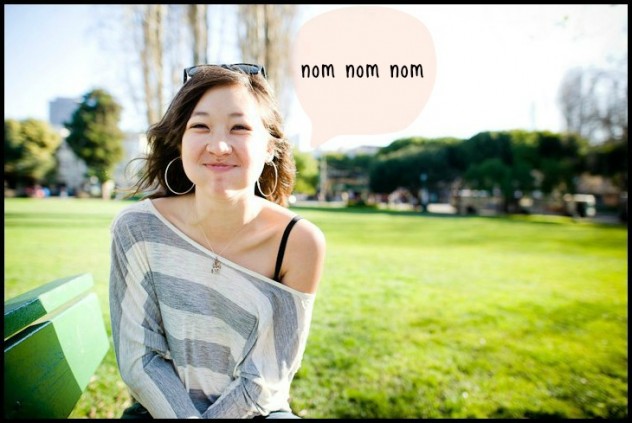 Hi, I'm Heidi and welcome to my food blog!
Forever Nomday is where you'll find new recipes and because we don't spend everyday cooking, occasionally I'll post here when we come across delicious food other people are making!
Food is my passion. But things weren't always this way; growing up with a Master Chef as a dad the table was always set with full silverware. You know, 3 different forks, 2 knives, 3 spoons – just work from the outside in, thanks Titanic. But great food wasn't always important to me. One might even go as far as say that I grew up a 'picky eater' and wasted what was probably decades of amazing food for some chicken nuggets and fries. 3rd grade Heidi was always trying to trade lamb or venison for a PB&J or leftover pizza. These were not my proudest moments.
But you know what they say, as you grow, so do your taste buds. And now there's not much I won't eat, except cilantro. You won't find any cilantro in any of my recipes, sorry it's just one of those things. You either love it or you hate it, and I claim this is a CILANTRO-FREE-ZONE.
But eventually I started to love good food. Not saying I don't occasionally binge on leftover pizza and instant noodles – because trust me, I do, but now I come home and envy my dad's ability to make a 3 star meal out of the scraps in the fridge.
So here we are, with a heavy French influence from my dad, and an obsession for Korean spice from my mom– that deep chili orange, that's how you know it's going to be good. Somewhere in there I picked up a love for baking which came from neither of them; and my style ended up a bit like me, a blend of Eurasian American. This blog is not intended for those looking for gluten-free, paleo, low cal substitutes; my meals can be healthy, but I will never compromise flavor for anything. Flaky pastries get that way with lots and lots of butter, and if you want to argue that a gluten-free, dairy-free pastry is better than butter flakes, this blog is not for you.
Welcome to Forever Nomday.