Prep
1 hr 30 min
Cook
25 min
Ingredients
1 3/4 cup

‏all purpose flour

2/3 cup

‏confectioners' sugar

3/4 teaspoon

‏salt

12 tablespoons

‏unsalted butter

4

‏eggs

1 1/4 cup

‏granulated sugar

2 teaspoons

‏lemon zest

3 tablespoons

‏all purpose flour

1/8 teaspoon

‏salt

2/3 cup

‏lemon juice (strained)

1/4 cup

‏whole milk

2 tablespoons

‏unsalted butter (melted and slightly cooled)
A lemon bar is a common dessert, found in coffee shops far and wide but lemon and custard does not always a good lemon bar make. There's a magical balance between sweet and tart, creamy and flaky, that makes a perfect bite of lemon bar a little piece of heaven. If you haven't noticed yet, I am a very big fan of a good lemon bar, and get more disappointed than the average person when it turns out to be subpar – which is probably why I just decided to make it myself.
This was my first stab at making lemon bars and I got this recipe from The Dessert Bible. If you're looking for a good cook book to explain the why behind what you're baking, and to test out all the things that could go wrong so you don't have to, this is a great read.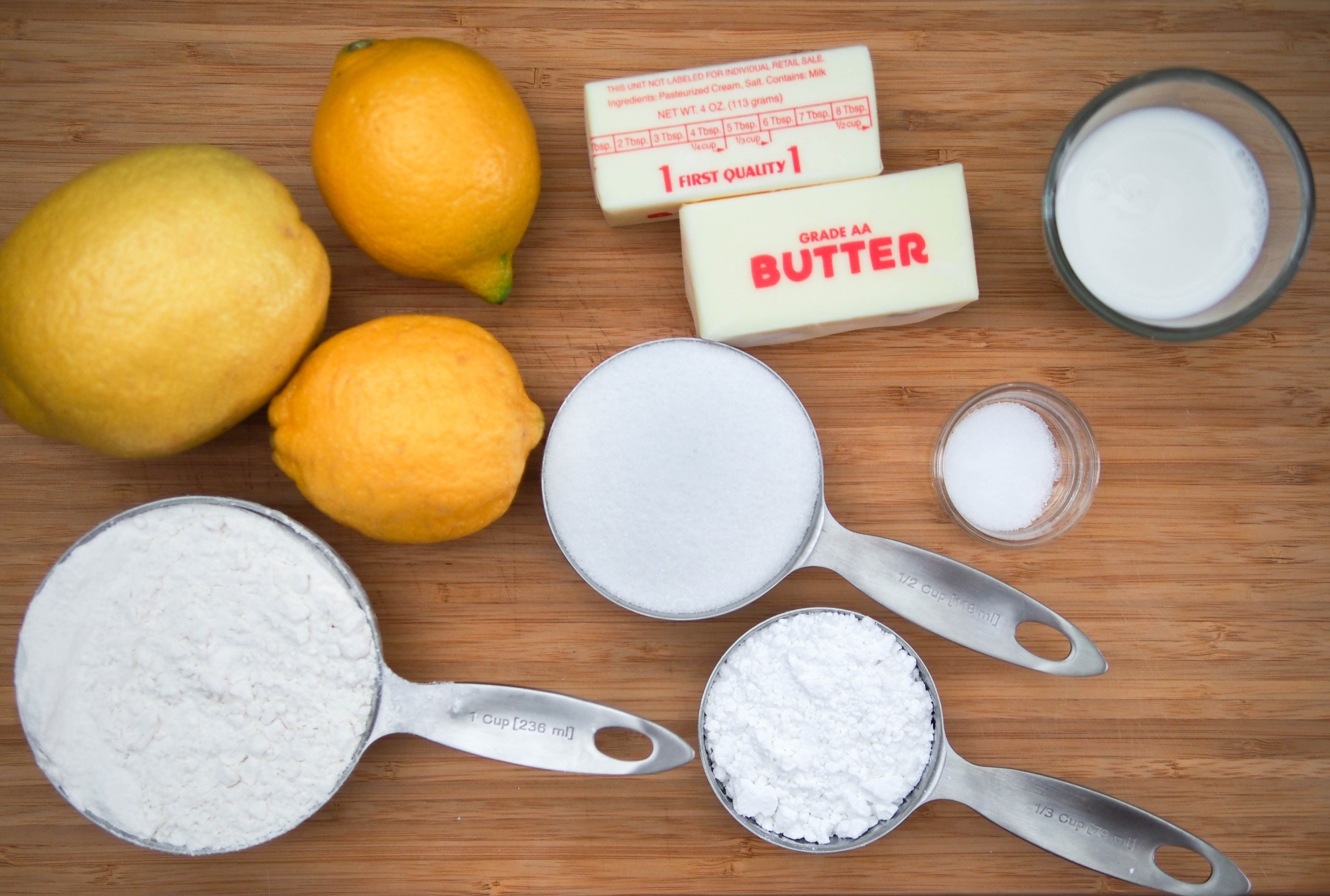 For the crust: Line a 9 x 13 inch baking pan with parchment paper running along the long side of the pan, hanging off the edges enough to lift the entire bar off the pan when it's done.
In a food processor pulse the flour (1 3/4 cup), confectioners' sugar and salt (3/4 tsp.). Add butter (12 TBS) and blend for 10 seconds then pulse until mixture is pale yellow until it looks like crumbles. Layer the bottom of the baking pan and press lightly. Then place in the fridge and let chill for 30 minutes.
After 20 minutes, start pre-heating your oven to 350˚. Bake crust for 25 minutes, or until golden brown. Remember that all bake times are relevant, everyone's oven cooks at a slightly different temperature, so if you're not looking to calibrate your oven, just keep an eye on your crust.
While crust is baking: Whisk the eggs, sugar, and zest. Whisk in the flour (3 TBS) and salt (1/8 tsp) then stir in the lemon juice, milk and butter (2 TBS) to blend well. I recommend zesting your lemons first, set the zest aside and then roll your lemons on the counter to soften up the lemons to ease squeezing them for the juice.

Reduce the oven temperature to 325˚, stir the filling one last time (if you don't, there will be major separation and you'll have an uneven filling.) Pour into the hot crust and bake until the filling feels firm to the touch and has set completely – make sure not to overbake. I have sensitive finger tips so I prefer to just shut the oven door firmly and if it jiggles like Jello, it's done. 
Let rest on a cooling rack for 30 minute, then lift the parchment paper off the pan. Grab a sharp knife and cut into rectangles. Wipe your knife after every cut, the filling is sensitive and you will not get clean squares if you do not.