Ingredients
2 cups

‏all-purpose flour

1 tablespoon

‏Hershey's Special Dark Cocoa powder

1 tablespoon

‏ginger powder

3/4 teaspoon

‏baking soda

3/4 teaspoon

‏ground black cardamom

1/2 teaspoon

‏ground black pepper

1/2 cup

‏salted butter

3 tablespoons

‏fresh ginger (grated)

1/2 cup

‏golden brown sugar (packed)

1/4 cup

‏granulated sugar

1/2 teaspoon

‏salt

1/2 cup

‏unsulfured dark molasses

2 tablespoon

‏decorative white sugar crystals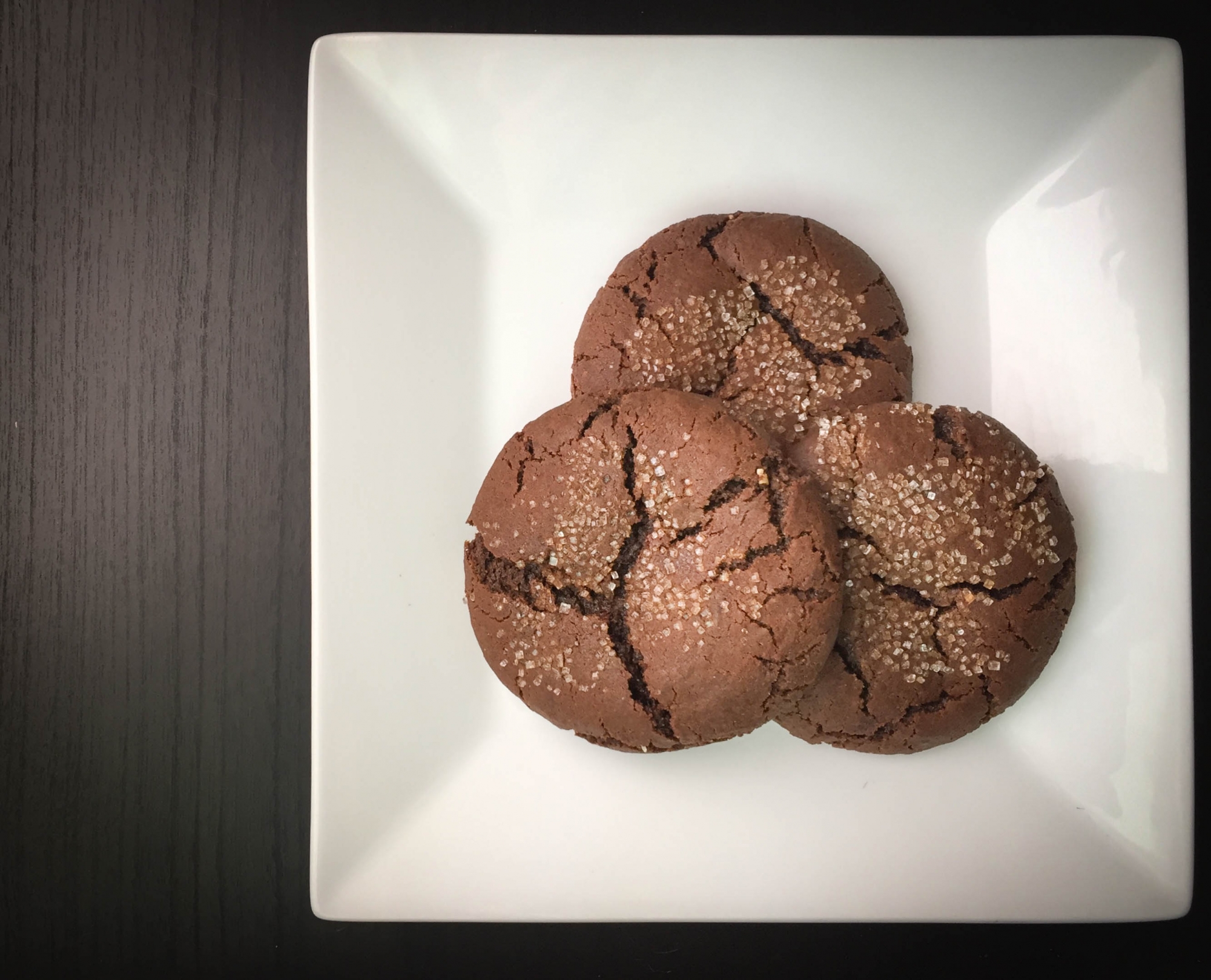 This week's recipe is an adaptation from my all time favorite coffee shop – Blue Bottle. Now while have a strong aversion to ginger – near my sushi, in my salads and especially in my cookies; it appears that my friends do not. Every time we go to Blue Bottle I immediately order a New Orlean-style Iced Coffee, while my boyfriend is quick to order one of their ginger cookies. I remember the first time I had one, thinking it would be like a gingerbread cookie, something that reminded me of the holidays, I was wrong. Typical gingerbread cookies –like the ones you find at holiday parties– are to ginger like… a glass of water with a lemon wedge in it, is to biting down into an actual lemon. To me, ginger is that intense. And so are these cookies. 
SO BE WARNED!  You better be a big fan of ginger if you're looking to make these little guys. Do you eat ginger straight from the plate at sushi places? Do you like to drink ginger beer straight? And in your cocktails? Okay, read on. 
I will have to admit that I made these, but had to get outside help to judge how they turned out. Because frankly, I am not one of those ginger people. I pick it off my sushi plate, and think that gingerbread cookies, and holiday beverages with lots of sugar are the only way to go. But when your best friend asks you to make them for her birthday, you suck it up, and have other people taste test your cookies. 
I adapted the recipe a little bit from their book, Blue Bottle Craft of Coffee: Growing, Roasting, and Drinking, primarily because I couldn't find light molasses and because of the cocoa powder I had at home at the time. But it came out really good so this is the recipe I'm sticking with. Also instead of rolling the dough in regular sugar, I skipped that step and only rolled the tops with large sugar crystals. I preferred the look especially when gifting them to a friend. 
Sift the flour, cocoa powder, powdered ginger, baking soda, cardamom and pepper into a bowl.

(Just for fun, I got this little lens that clips on my cell phone and one of the lenses is a macro lens. Ever wonder what freshly ground pepper looks like up close? Now you know!)
Use a standing mixer (or handheld mixer) beat the butter, granulated sugar and brown sugar on low speed until smooth, 1-2 minutes. Add the salt and mix on low speed until well combined. Scrape down the sides of the bowl, then mix on medium speed until light and fluffy, 4-5 minutes.
Add the molasses and fresh ginger and mix until well combined. Scrap down the sides of the bowl, and then add the flour mixture. Mix on low speed just until uniform in texture.
Using a rubber spatula, scrape the dough out into an airtight container and refrigerate for at least 3 hours and up to 5 days.
Preheat oven 350F. Line a baking sheet with parchment paper.
Roll 1/4 cup portions of the dough into balls, then roll the top of the balls in sugar crystals. Slightly flatten and place on baking sheet, at least 2 inches apart.
Bake 13-15 minutes, or until crackly on top but still somewhat soft to the touch, rotating pan midway through. (The original recipe said 11-13 minutes and I found myself needing a few more minutes on each side, monitor your cookies and your oven and adjust the temperature to your settings)
Let cool on the baking sheet for 10 minutes, and then remove. The surface will get firmer as they cool. (If you didn't flatten your cookies, they might dome a bit, but they will settle again as your cookies cool, so don't worry!)


Nom!
Recipe By
forevernomday