Ingredients
1 1/2 cup, chopped + 1 1/2 cup kimchi juice

‏ripe napa kimchi

1, medium

‏brown onion

2 cups

‏long grain rice

2 tablespoons

‏rice vinegar

2 tablespoons

‏soy sauce

1 tablespoon

‏sesame oil

12 oz, cubed

‏chicken or steak

1 tablespoon

‏Korean red pepper flakes

6

‏egg (optional)

3, sliced thin

‏green onion
The beauty of fried rice is that you can put anything in it. Leftovers? Check. You can find a way to incorporate your favorite foods into fried rice and it will most likely work. Chicken, steak, tofu, leftover BBQ ribs, mushrooms, asparagus, whatever veggies you have laying around in your produce drawer that is about to go bad if you don't cook it soon, you name it, it can be the star of your next fried rice!
My mom made homemade kimchi the last time she visited and it was started to get a little too sour/spicy with time. It reached a point where one might say it was even too ripe, but it's fermented right? So it should be okay! But super ripe kimchi is perfect for kimchi fried rice. Fun fact: We have an abundance of green onion in our backyard because it is one of these plants where you can just chop off the tops, stick them in the ground, and expect it to grow, and grow, and grow, until you have so much green onion in your garden you won't even know what to do! Did I mention it's best with a fried egg on top? I mean most things are better with a fried egg but fried rice <3
No one in my house ever made kimchi fried rice and once I started really appreciating spicy foods I started ordering it all the time at Korean restaurants. Now that I make it at home it just seems like the possibilities are endless, Kimchi and Spam fried rice, onions and leftover barbeque, steak and mushrooms….. I could keep going, but instead I think I'll just move along to the recipe.
<3 Nom Nom Nom
*********
Start by preparing the rice. Doesn't matter if you have a rice cooker or a pot, start by measuring out your rice, for this recipe I used 2 cups of long grain (Jasmine) rice. Long grain rice doesn't stick together and I personally think it is better for fried rice recipes! Rinse the rice to get some of the starch off of it to help it from being sticky. Then add a little more than 1:1 ratio of hot water, throw it in the rice cooker, and let that do it's thing. If you are the kind of person that cooks in a pot, well you should just get a rice cooker, it is a game changer. But if you do not have a rice cooker, look up instructions somewhere online, I do not want to lead you astray.
While your rice is cooking  – this should take roughly half an hour, I like to use hot water to cook the rice because it speeds up the cooking process quite a bit – start prepping your veggies. Chop up your onion, kimchi, and green onion, then set them aside.
For this recipe, since it is such a large batch, I use a wok. If you don't have a wok or you are making a smaller amount, feel free to use a regular frying pan. Heat up some oil on medium, wait until the pan is fully heated then saute the onions until they are golden brown. Next, add the chopped kimchi and stir fry, adding the green onion next. If the protein you choose to use isn't seasoned, this is a good time to add it in so that it takes up the flavor of the onion and kimchi! Continue stir frying until your chicken or beef is fully cooked. Keep the kimchi juice on the side, you will be using this later.
You can add the chili flakes or gochujang paste if you have it to add more of a kick. I like everything spicy so I like to put it a notch up from just the kimchi juice. I made this recipe later and fried an egg and threw it on top and it was perfect. At the time I made it for this blog, I thought we had eggs, but I was wrong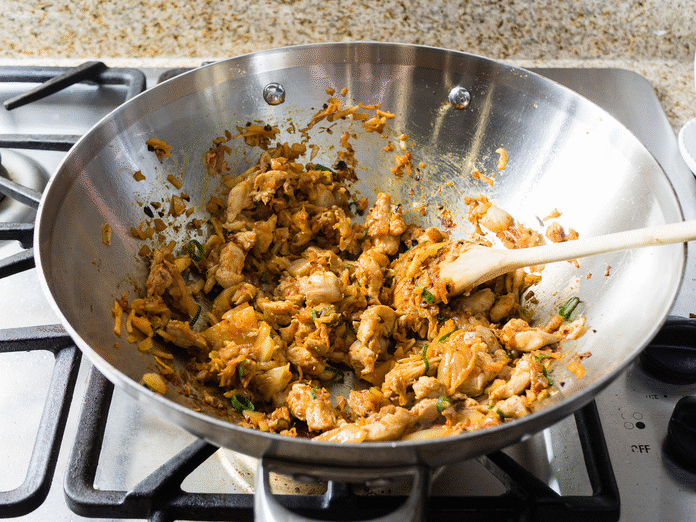 When the rice is done, throw it directly into your pan, using a mixing spoon, break apart the rice as much as possible, add the kimchi juice, and mix until everything is fully incorporated. When there are no white grains left and they are all the same orange hue, drizzle the sesame oil, white vinegar, and soy sauce over the rice, mix everything for 1 minute until it again is fully incorporated. It will be much harder to tell if it is fully mixed in since it will not change in color like it did before, but when in doubt, just mix it some more. PSA: Sesame oil can be a very overbearing taste if you have too much clumped together!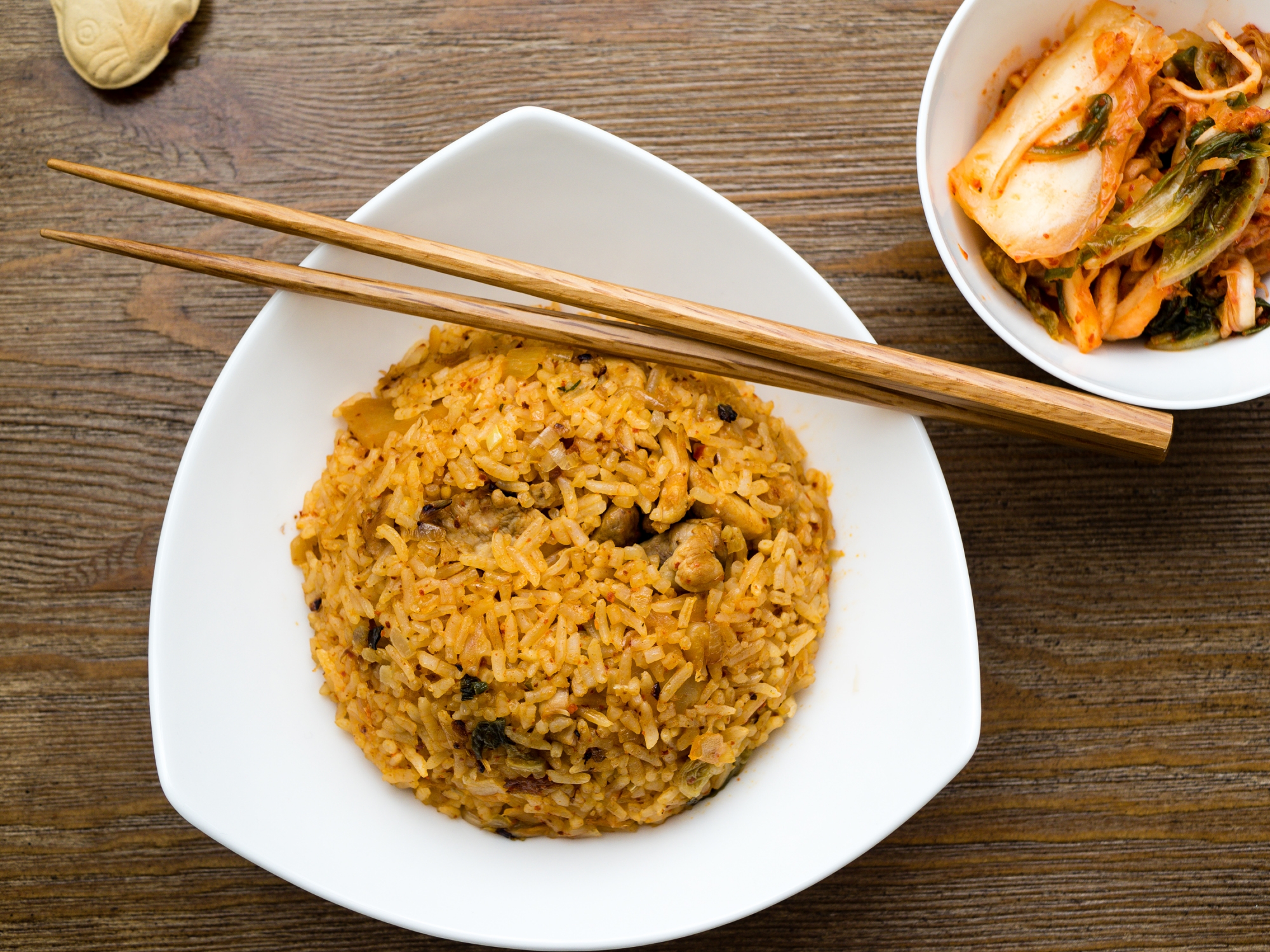 Recipe By
forevernomday