Ingredients
1 box (2 sheets)

‏puff pastry dough

1 cup

‏sugar

1/8 teaspoon

‏cinnamon

a pinch

‏salt
Defrost the puff pastry.

Preheat the oven to 450˚

Mix the sugar, salt and cinnamon and pour 1/3 of the mixture onto a clean countertop and spread it out evenly (you'll be using this the same way you would flour dough to make it not stick)

Unfold the soft puff pastry and lay it down on the sugar mixture, use a rolling pin to lightly roll the dough (enough to get the sugar to stick to the dough, not to flatten it)

Pour 1/2 of the remaining sugar mixture on the top of the dough and evenly spread it out.

Now fold the dough in half, it should look like a book. Unfold and fold both sides of the square towards the middle where your new crease is. Now fold it once more like a book so they meet in the middle. You should have 4 layers.

Cut off the ends of your rectangular pastry log if they are uneven (it's important for all the pieces to be the same thickness so they bake evenly).

Cut into 3/8 in. slices and set them down on their sides. Using a pastry brush (or your fingers if you don't have one) brush the cut sides of each piece of  dough and dip into the left over sugar mixture (you want all part of the dough to be sugared so that it will caramelize.

Use a handful of remaining sugar mixture and sprinkle it over the entire cookie sheet, covering the cookies and their surrounding baking area.

Place them on a baking sheet with lined with parchment or a silicone baking sheet and bake for 10 minutes.

Take the sheet out and flip each cookie and allow to bake for an additional 2-3 minutes. (Watch your cookies! An extra couple of minutes could turn them into burned crisps!)

Repeat with your other sheet of puff pastry.
Nom!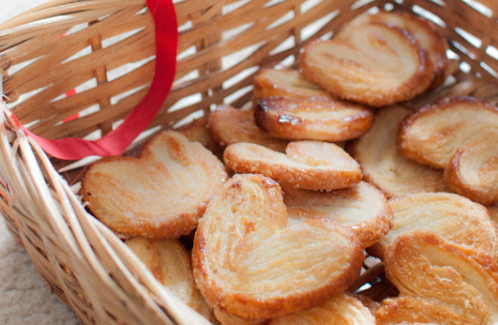 Recipe By
forevernomday