Ingredients
2

‏golden potato (medium)

1

‏sweet yellow onion

4

‏Thai chilies

1/2 cup

‏Thai basil

1 cup

‏coconut milk

2 tablespoon

‏red curry paste

1 teaspoon

‏red chili powder

1 tablespoon

‏sugar

8oz

‏salmon filet

1-2 teaspoons

‏fresh ground pepper
For anyone not living in San Diego and reading this, I'll preface it by saying we've been experiencing heat waves and humidity, something we typically don't get much of here. In response, my herb garden is experience survival of the fittest to the fullest extent. The only herb that has resiliently pulled through without as much as a wilted branch, has been my Thai Basil! What better to do with it than make some Thai curry

Start by boiling a pot of water and adding a teaspoon of salt. Wash and chop potatoes into chunks about 1/2 x 1/2 x 1/2 inch, boil the potatoes while covered.

Cut onions finely, fry with a few tablespoons of oil under medium heat, add ground pepper. Keep your onions on the heat until soft and caramelized. Add Thai chilies and fresh Thai basil for about 1 minute (or until basil wilts a bit.) You can choose if you want to leave the chilies in or take them out at the end – they're hot! 

Pour in coconut milk, curry paste, sugar and chili powder – let everything simmer under low heat for 10 minutes while you prep the salmon.

Add a few teaspoons oil to frying pan under medium heat, gently add salmon to the pan and sprinkle a little bit of salt&pepper on top to season.  Fry for 2 minutes on each side and then remove from heat and let rest for 2 minutes.
Break salmon into chunks and add to the curry mixture along with the potatoes.  Stir it gently to get everything incorporated/coated.  Keep your pot covered and allow to simmer for about 5 minutes
Remove from heat and serve immediately with rice!  NOM!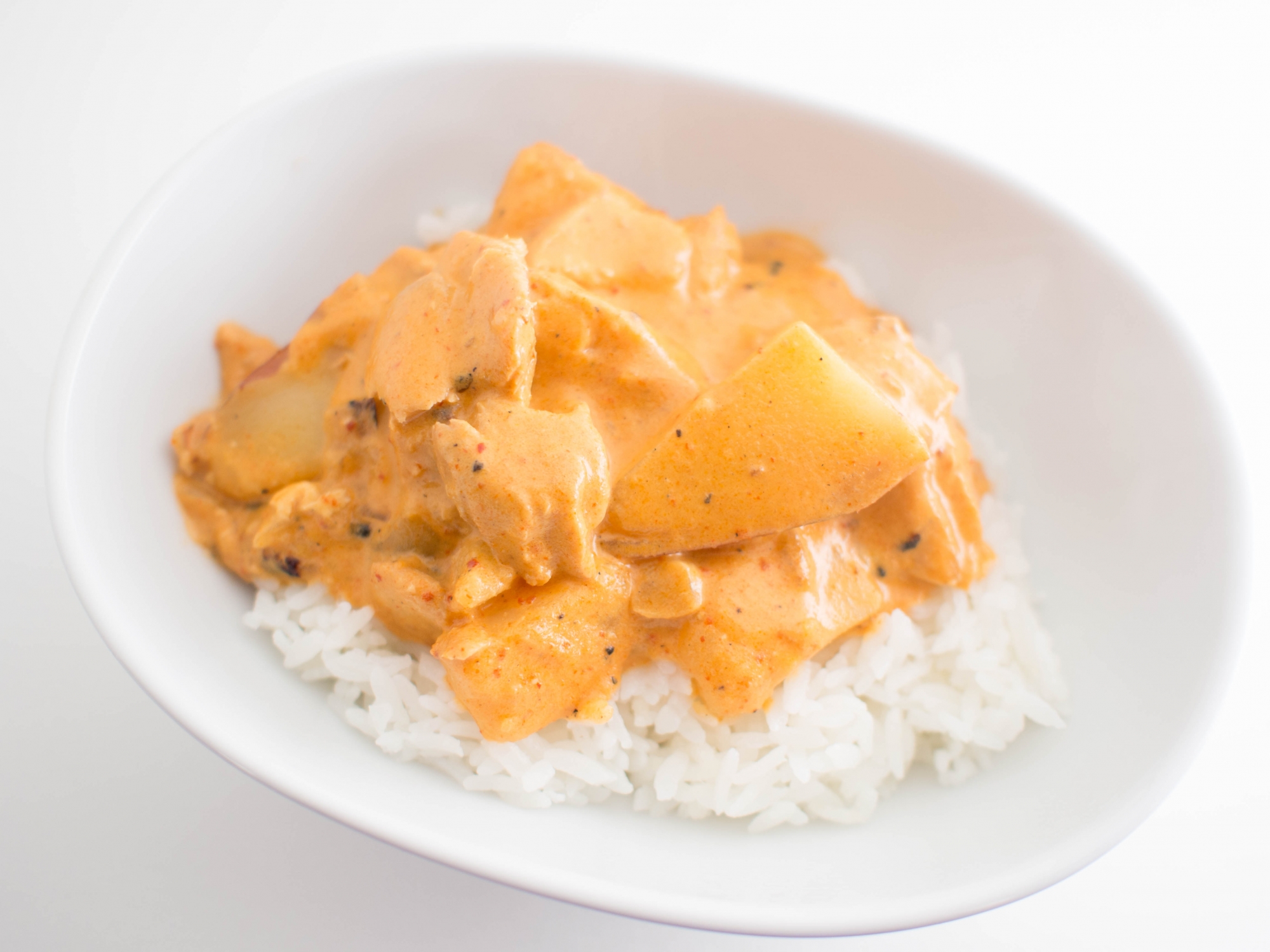 Recipe By
forevernomday