Yorkshire Pudding
4, large

‏eggs

1 cup + 2 teaspoons

‏all purpose flour

3/4 cup

‏whole milk

1 tablespoon + 2 teaspoons

‏water

1/2 teaspoon

‏salt

1/2 cup

‏shortening (beef drippings, lard, or high smoke point oil)
I feel like I consider myself somewhat of a foodie so when someone starts talking about a something I've never heard of, I get a bit taken aback. A couple weeks ago, Jimmy was talking about how he really wanted yorkshire pudding and I thought I was in the right to think he was talking about actual pudding. It was like that one time my parents and I went out to lunch at a cute French bistro in the city and they asked me if I wanted to order sweetbreads. I can still remember thinking, 'yea, why not, sweet bread sounds pretty good, maybe it's like those asian breads.'  I knew something was up when it came out not looking remotely like bread at all, then when I asked my mom what it was, she said that she would only tell me after I had tried it. There is nothing sweet, or bready about thymus glands – but it is very delicious spread on bread, once you accept that you've been mislead.
When I told Jimmy I didn't know what yorkshire pudding was, and that popovers sounded like it was some sort of hot pocket or calzone, he immediately grabbed for his computer and went straight to YouTube. I'll admit, if you aren't familiar with how these are made, you should check out that video, it's pretty amazing. Determined to educate me on a food item I had apparently been missing out on my entire life, Jimmy was dead set on buying a muffin tin and making these for the past couple weeks. We then went on vacation and got busy, as life goes, but then this morning I woke up to clammering in the kitchen. It was finally time! While the first batch had to be scrapped because he accidentally added the oil to the batter, instead of just to the pan, the second batch came out perfect!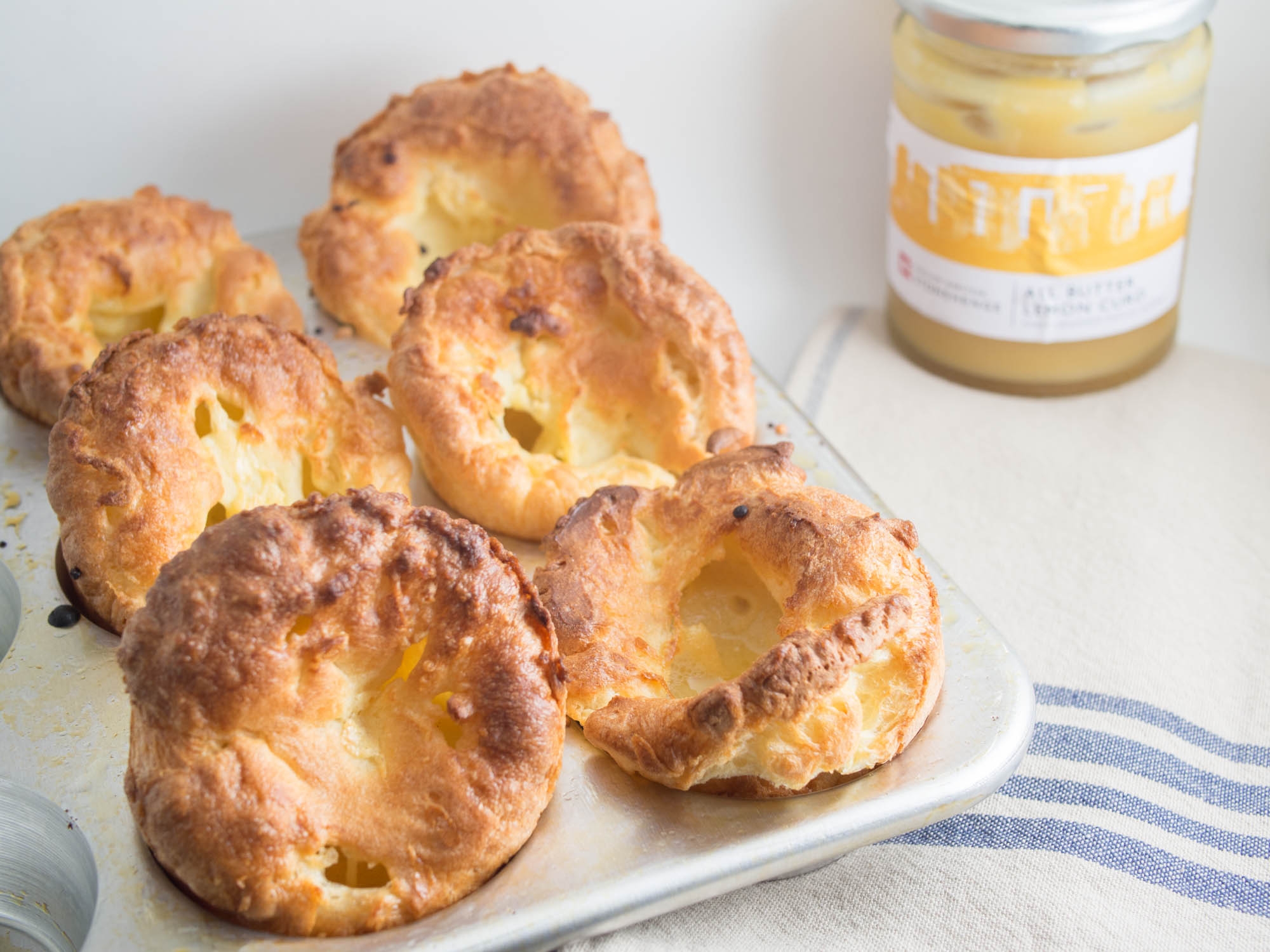 Combine eggs, flour, milk, water, and salt in a medium bowl and whisk until a smooth batter is formed. Let batter rest at room temperature for at least 30 minutes. Alternatively, for best results, transfer to an airtight container and refrigerate batter overnight or for up to 3 days. Remove from refrigerator while you preheat the oven.
Adjust oven rack to center position and preheat oven to 450°F (230°C). Divide shortening (oil, fat, or drippings) evenly between a 12-well standard muffin tin. Preheat in the oven until the fat is smoking hot, about 10 minutes. Try to use a fat or oil with a high smoking point.
Transfer the pans or tins to a heat-proof surface (such as an aluminum baking sheet on your stovetop), and divide the batter evenly between every well. The wells should be filled between 1/2 and 3/4 of the way (if using pans, they should be filled about 1/4 of the way). Immediately return to oven. Bake until the yorkshire puddings have just about quadrupled in volume, are deep brown all over, crisp to the touch, and sound hollow when tapped. Bake for 15 minutes.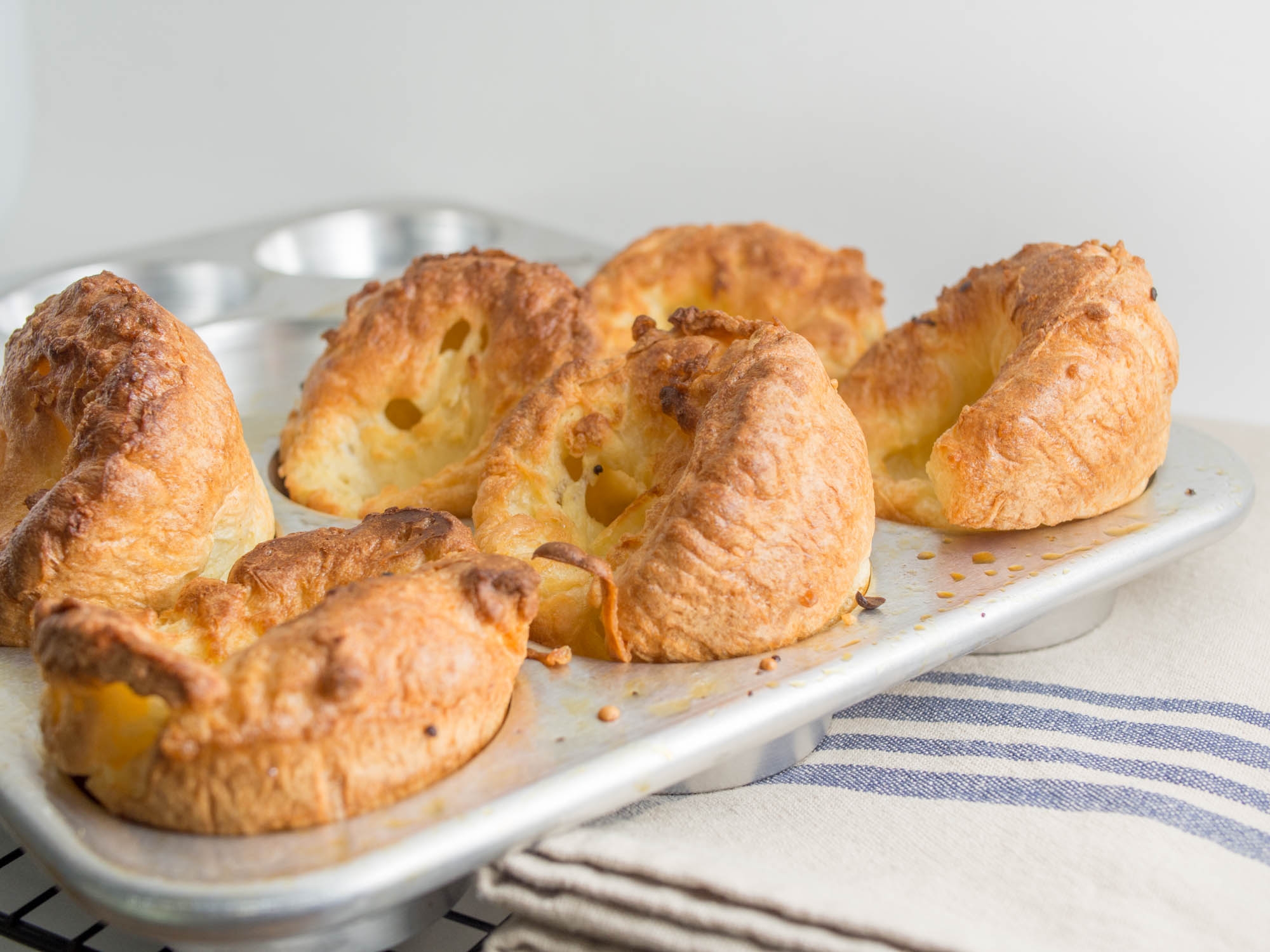 Serve immediately, or cool completely, transfer to a zipper-lock freezer bag, and freeze for up to 3 months. Reheat in a hot toaster oven before serving.