Peanut Butter Pumpkin Puppy Treats
3 cups (384g)

‏wheat flour

1/2 cup (43g)

‏quick oats

1/2 teaspoon (2g)

‏cinnamon

1 cup (260g)

‏pumpkin puree

2

‏eggs

3 tablespoons

‏all natural peanut butter
Christmas is here!! I really can't contain my excitement! I've been waiting for this since before Thanksgiving, I'm totally one of those people that listens to the 24/7 Christmas stations and had a Christmas Countdown on my desktop so I could always check just how many days, minutes and seconds we were away from today! Traditionally, Christmas Day is spent watching A Christmas Story on repeat and baking Christmas cookies, but since Jimmy's aunt sent us a giant box of cookies this year, I heard him cringe a little when I started talking about my plans to bake a fresh batch.
I recently baked up a batch of toffee cookies that sort of came out how I had wanted them to and was planning to work on the recipe until it came out blogworthy, and then I looked down and saw the hopeful eyes of our fur-child, Sophie. And then it hit me… if I had to eat the same meal morning, noon and night and my humans were constantly cooking amazing things, I'd like a Christmas treat too! So we threw on the Minions movie, which I'll admit isn't a Christmas movie, but it is on Netflix and it did have a few scenes with snow! And I lucked out because our pantry is full of all kinds of dog friendly ingredients: pumpkin, peanut butter, both things that dogs love and can digest! I ordered these adorable corgi cookie cutters that I saw once on i am a food blog's recipes and had a couple more I had bought for this very occasion one day.
Jimmy's parents are here for the holidays and they did a great job humoring me, though I'm pretty sure they think I'm nuts for spending the afternoon whipping up cookies for the dog, but Sophie is more than just a dog, she's our family too and she deserves little corgi shaped Christmas treats. I also might be a little crazy, but if it's at the expensive of this little nugget in her santa outfit, then I think I'm pretty okay with that!
In Nomday news, I started an Instagram page as well, so if you want to see updates on your phone, follow me at @forevernomday! Merry Christmas and Happy Holidays to everyone, and thanks for all of your support! I promise next year will have even more exciting and (hopefully) more frequent updates – just got to get past the whole wedding thing and we'll be back to normal!
<3 Heidi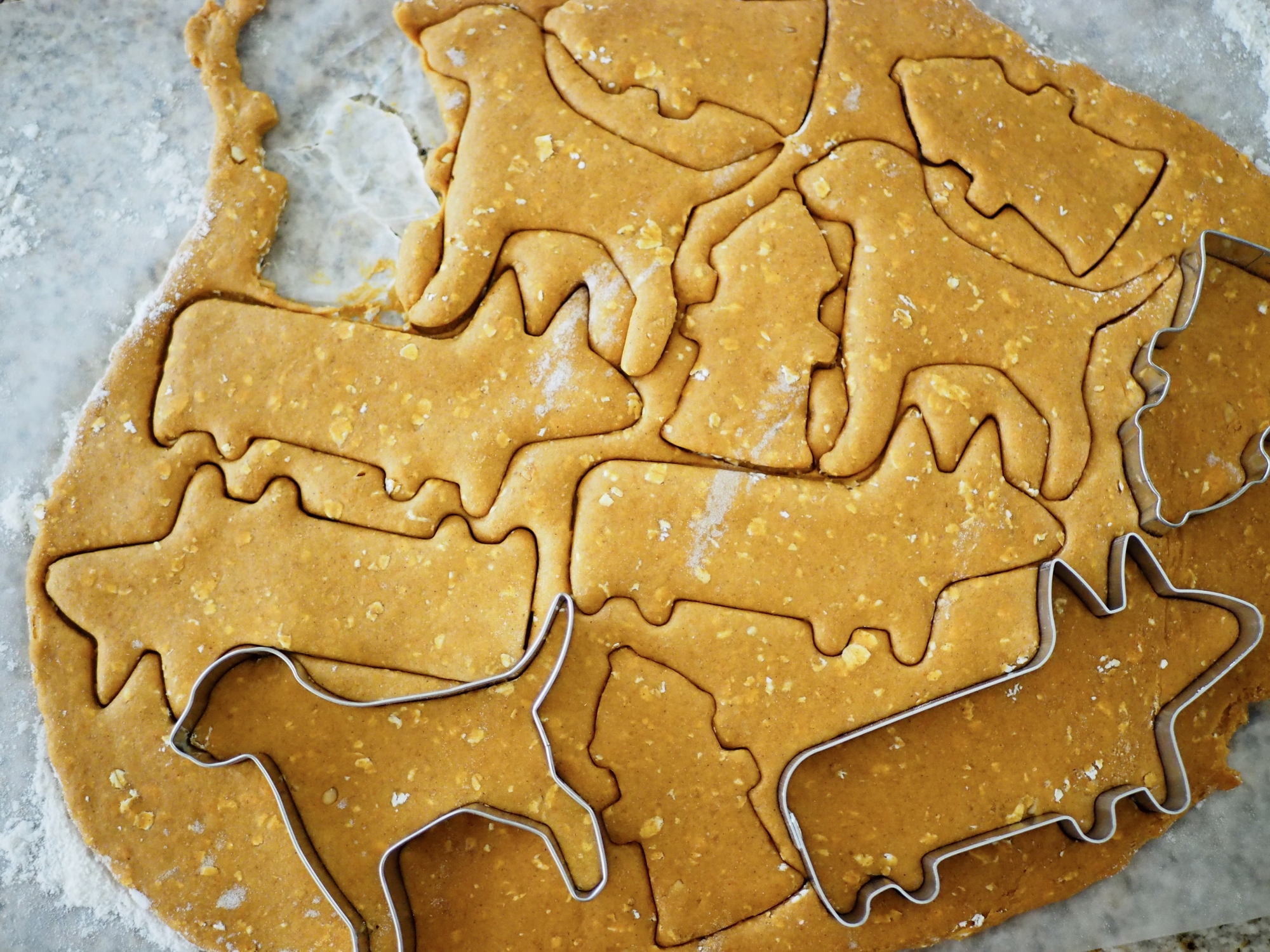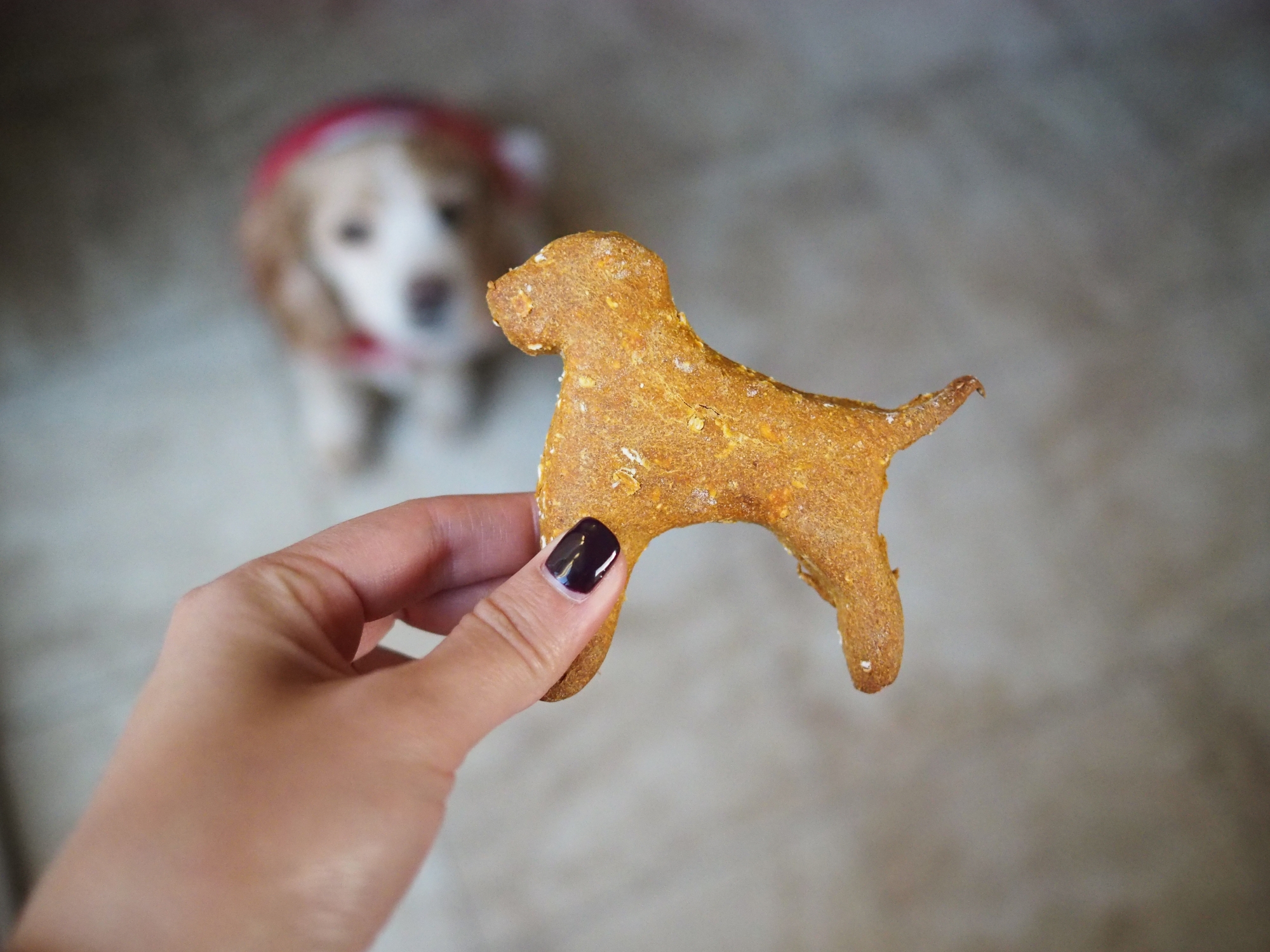 Preheat oven to 350°F.
In a small bowl, sift the flour and stir together the cinnamon and oats.
In a mixing bowl, add the pumpkin puree, eggs and peanut butter and cream together.
Slowly add the dry ingredients in and mix until the dough has balled up and pulled off the side of the walls of the bowl.
Lightly dust your hands with flour and ball up the dough until there aren't any creases in the dough. Creases will cause cracks in the shape of the cookie once you've rolled out the dough.
Lightly flour the surface you plan to roll your dough on, then roll your dough out to 1/2 inch thick. I tried rolling the dough out on parchment paper, thinking it'd be easier to peel off than my counter, but it just caused a lot of tears in the paper and it was even harder to release from the surface! I recommend doing it on a hard surface or a silicone baking sheet, they came off almost instantly when I used a silicone sheet. Also make sure your dough is rolled out evenly, different thickness of cookies will call for different cooking times, or else you'll come out with some underdone and some overdone. 
Press your cookie cutters and using an offset spatula (or a knife) bake on parchment paper or a silicon baking sheet for 30 minutes.
Allow to cool on a cooling rack for 5 minutes before serving to your pup!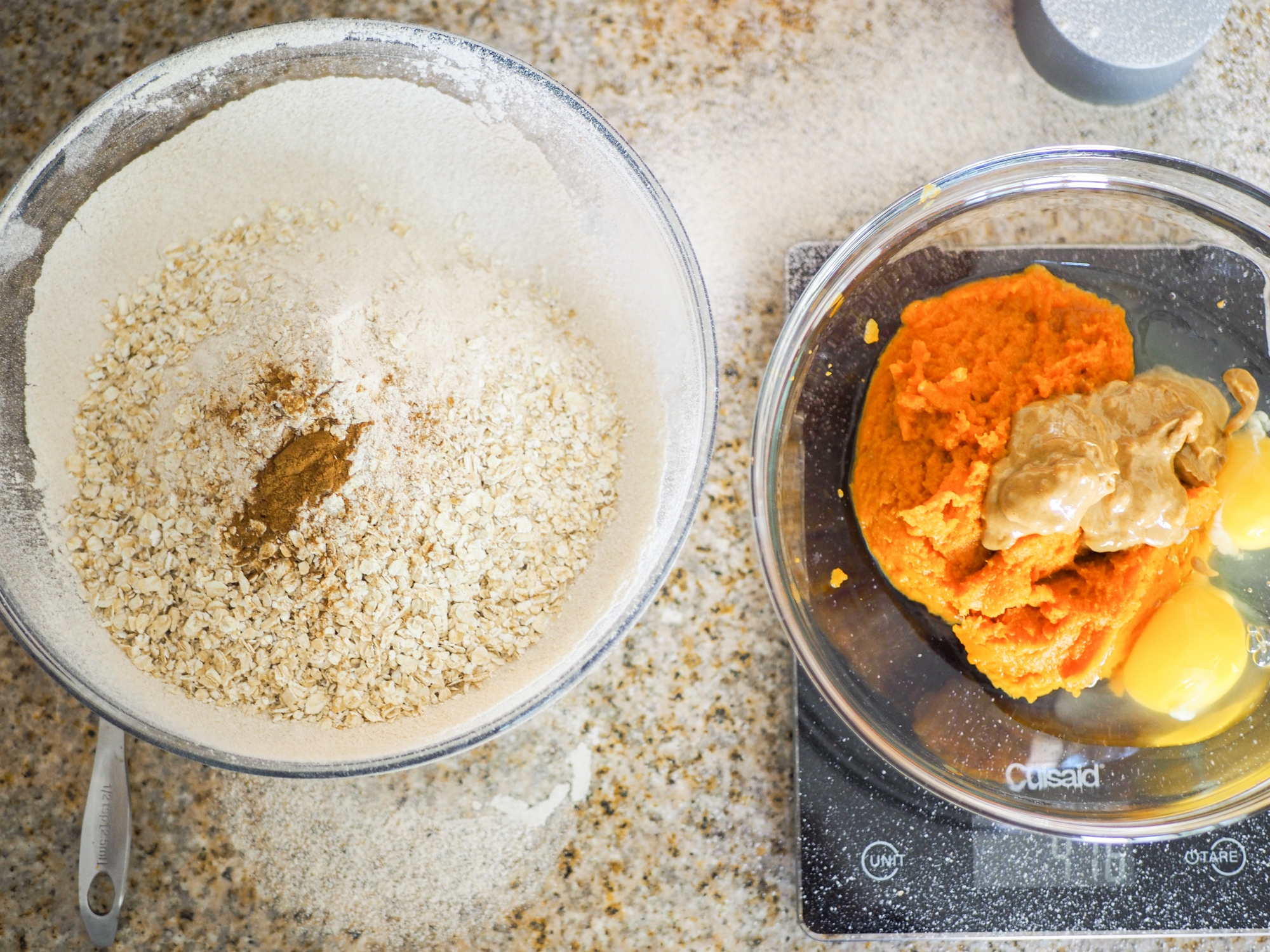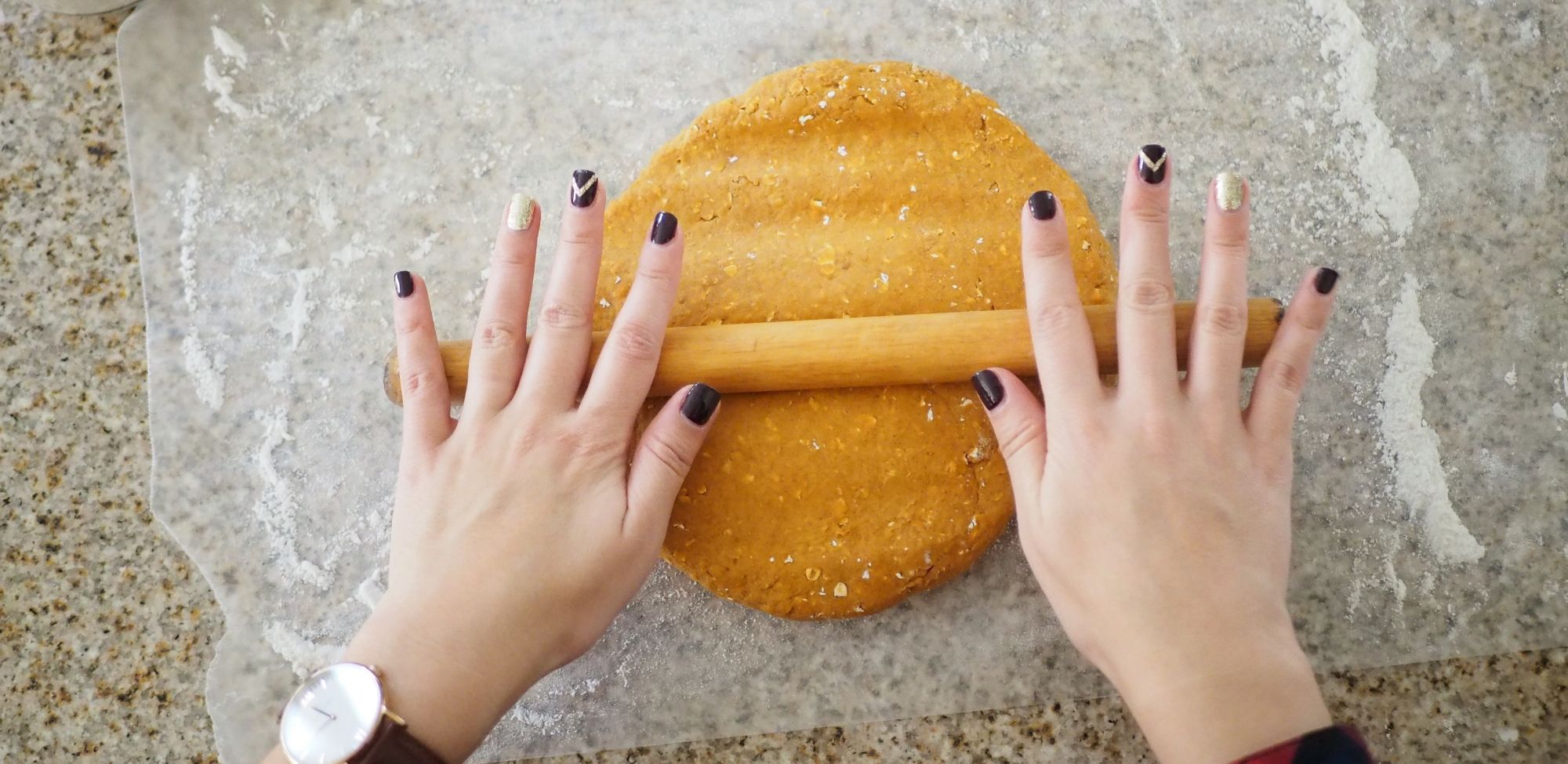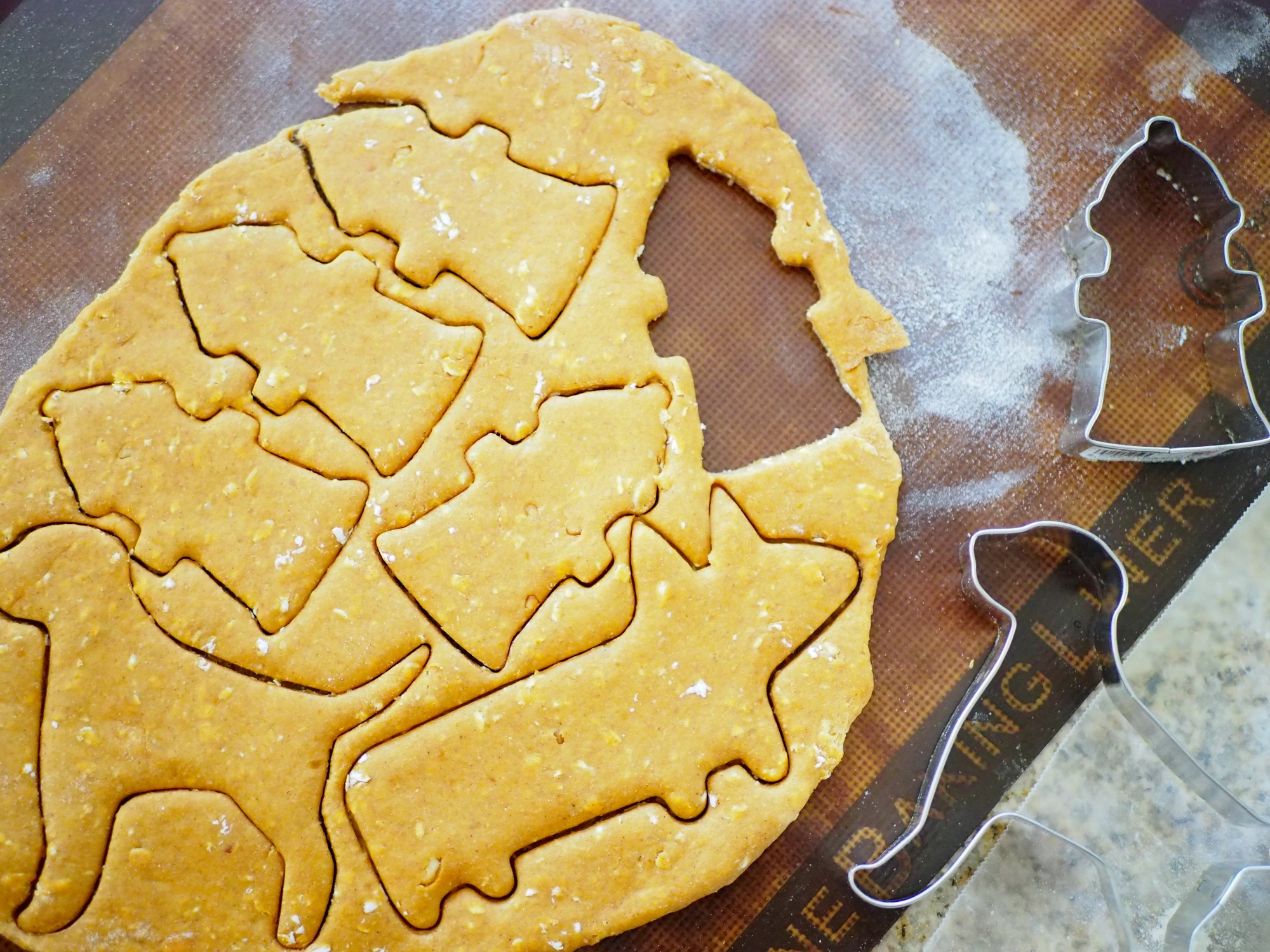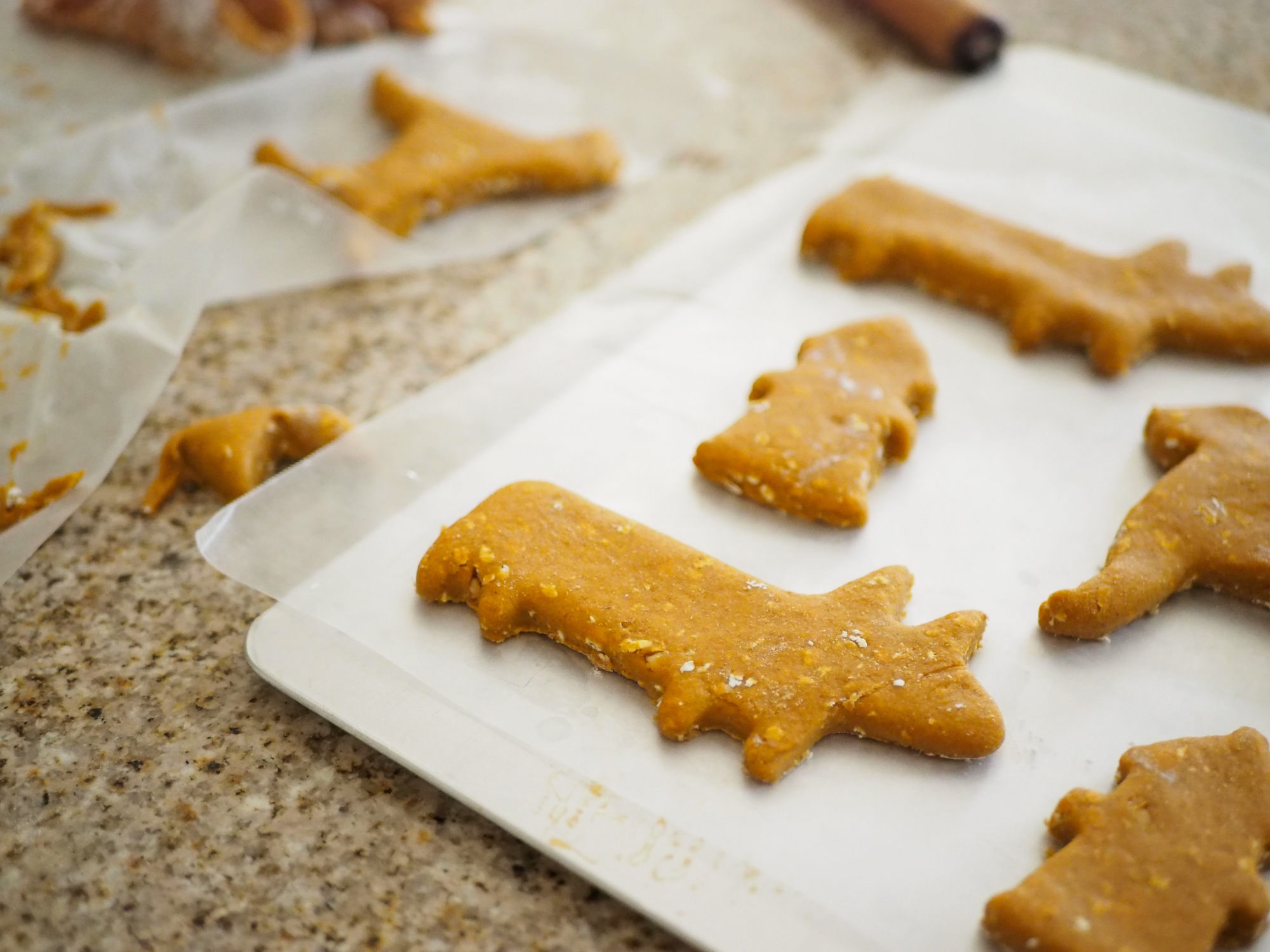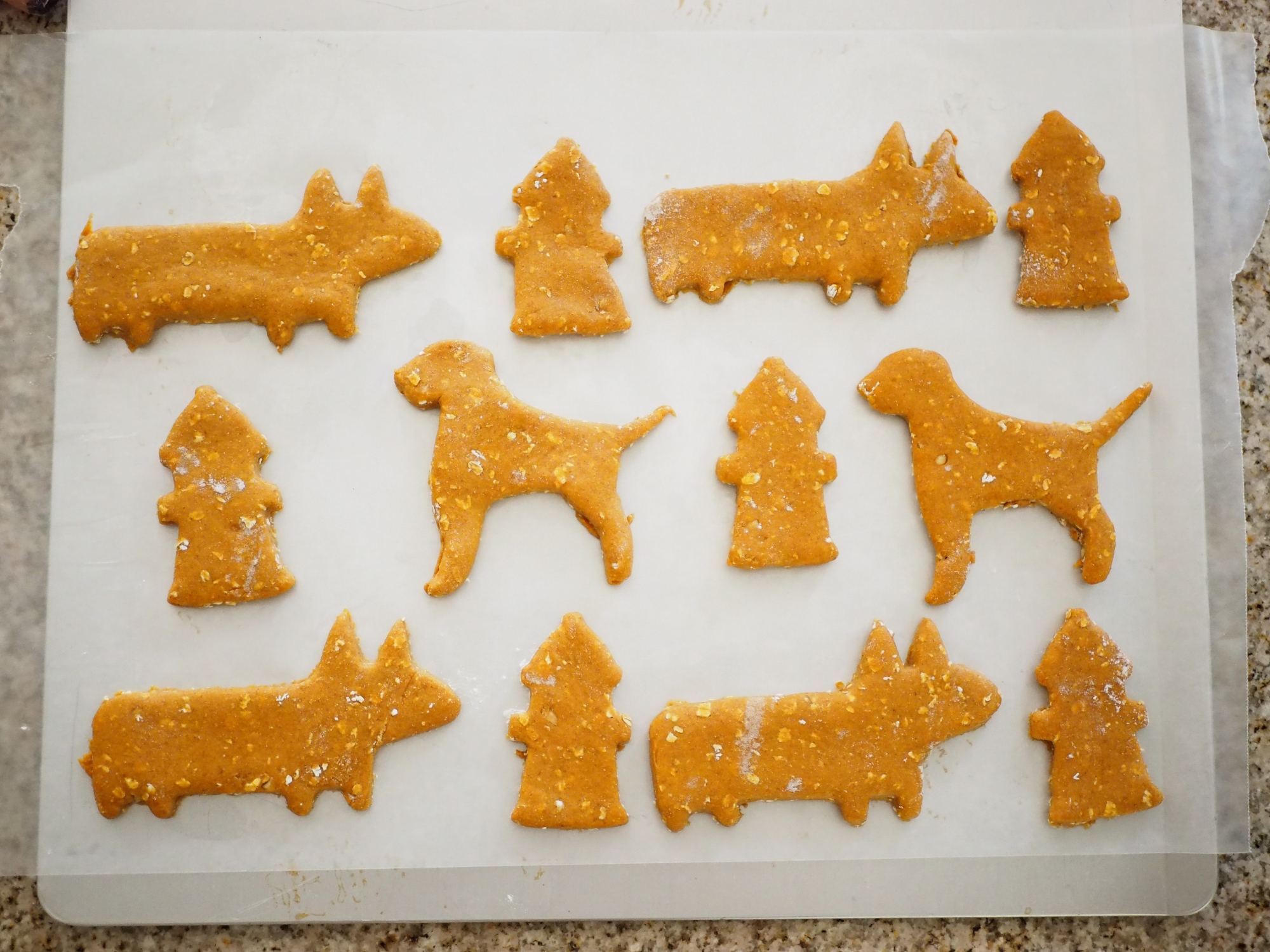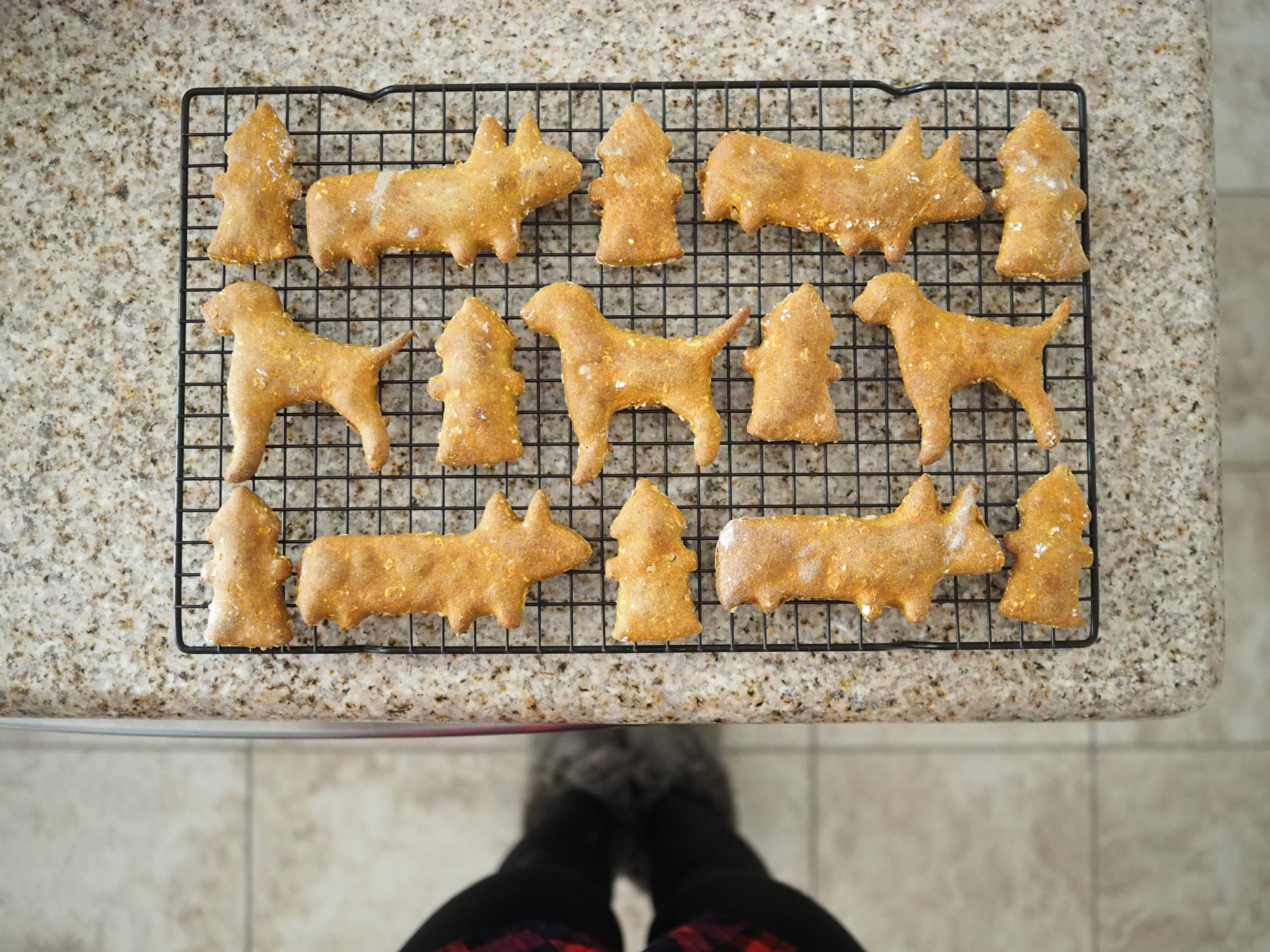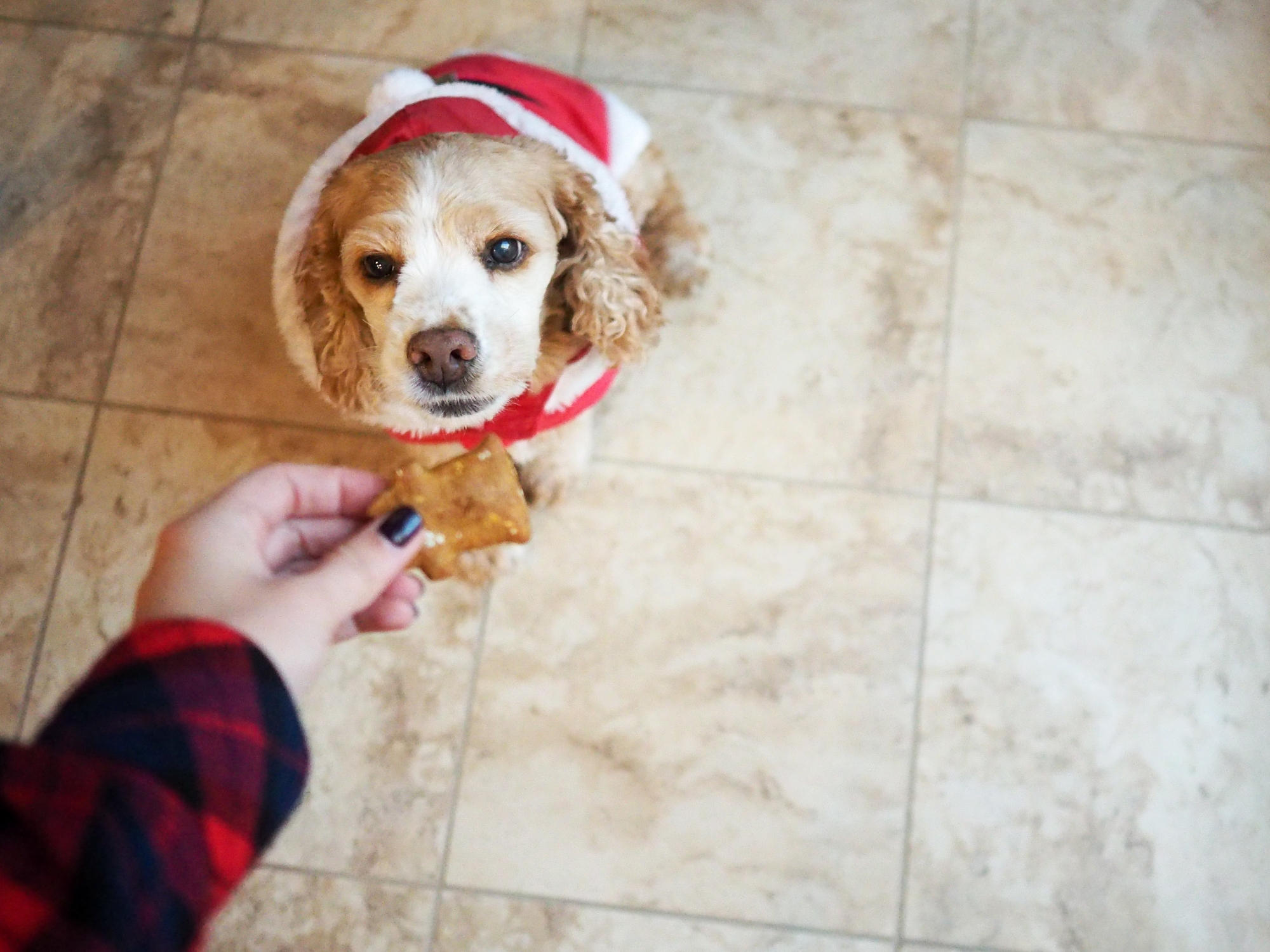 Recipe By
forevernomday